Prairie Spring Water is proud to offer a selection of water from the springs at the foothills of the Missouri Coteau Range. We offer the only 18.9 L spring water bottle in Moose Jaw and the surrounding areas.

Natural Spring Water
Our natural spring water contains all the essential minerals needed for daily intakes to maintain a healthy lifestyle as determined by Health Canada. Our water contains 246 ppm dissolved solids, 54 ppm calcium, 25 ppm sulphates, 11 ppm magnesium, 0.066 ppm iron, and 231 ppm bicarbonates for a refreshing glass of great-tasting, cold H2O.

Reverse Osmosis
Reverse osmosis produces fresh water through a process to remove contaminants—such as sediment, chlorine, fluoride, and arsenic—from unfiltered water. With one of the most extensive methods of filtration, reverse osmosis water truly has nothing in it and may be what you prefer for your home.

Wholesale Ice
Purchase ice from Prairie Spring to receive premium ice made from our reverse osmosis water. Pick-up or delivery can be arranged depending on your time constraints.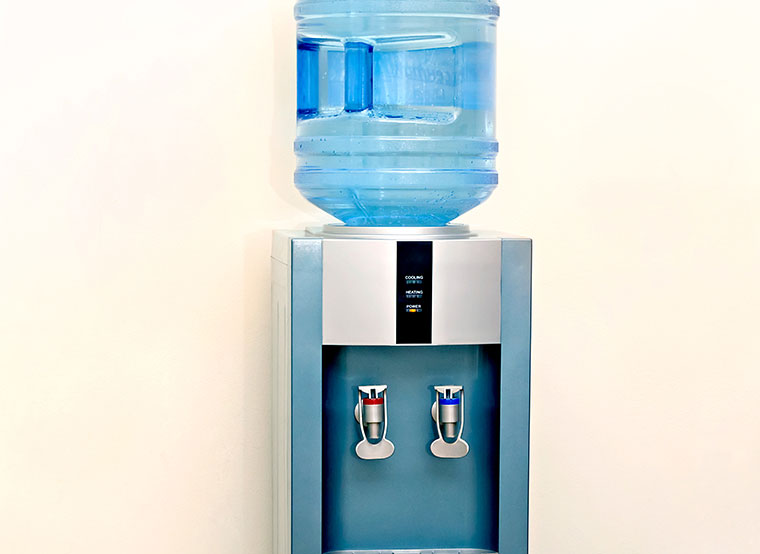 Prairie Spring Water offers a selection of water coolers available for your home or office. We have 10 L bottles and 18.9 L bottles available for pick-up or delivery.
If you face any challenges getting the water cooler from point A to point B we offer prompt, friendly service free of charge within the Moose Jaw city limits. Stop by, or give us a call to see what is available.
Our water goes through the least amount of processing possible to ensure a crisp, clean taste—but some impurities will flourish in the right conditions.
It's a good idea to clean and disinfect your water cooler every year, inside and out. This includes the taps and dispensers on the cooler, as well as the area the water passes through.
When purchasing a water cooler from us, rest assured that we are experts in water cooler cleaning and can take care of the maintenance part if you're busy. There's a reason we've been in business in Moose Jaw for 20 years.